Genesis Paper Collator
Selling Agency : KAWAKAMIKIKO Co.,Ltd   
Manufacturing : MARUYAMAKIKAI MANUFACTURING Co.,Ltd
Genesis Paper Collator
This product is for bundling various kinds of paper together.
This can handle from a single sheet of paper to papers folded in 2,3, ....plurally folded paper.
This is also equipped with double-Feeding Detection System.
In Japan, this is generally used for auto-insertion of flyers, pamphlets etc. into daily newspaper.
This products is highly expected to have further possible usages in your country.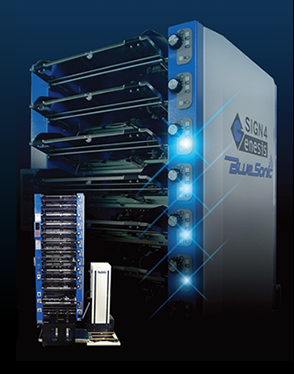 Genesis collator is the labor-saving machinery which combines different varieties of papers to one sheaf. In Japan, we use Genesis collator to gather vehicles known as "Chirashi (flyer)" into a set.
Since a copier has an ability to sort papers, it can't cope with flyers because they come in with different paper qualities and unique ways of folding.
The machine proceeds and collates any type of paper in the same way as long as it meets the specific requirement.That is our proud product "Genesis collator".
Because Genesis collator has to gather flyers with a various qualities of papers into a single set, it is equipped with a double feeding detection system, which thought to be difficult to design.
Our an unique double feeding detection system will prevent from future double feedings which may occur during the state in which papers clung easily due to paper quality, ink, moisture, or static electricity.
In addition, by utilizing "KNS sheet", which is registered utility model an optional part for the collator, enables the machine to proceed and gather easily clung papers without any difficulties.
Genesis collator also detects "missed inserts" and "paper jams" automatically, and it displays the errors clearly on a tablet terminal which prevents a missing page or disarranged pages greatly
Registered patent
Patent: The sheet feeding apparatus for the paper collator The pin wheel No: 3382705
Patent: Newspaper inserts paper collator Quantity display dropout paper NO:4187245
utility models : Separation force adjustment tool of the paper feeder Rubber chip hidden NO:3126986
Patent pending
special permission Patent Application NO: 2010-284161 collator
The Double feed detection by Ultrasonic
Genesis Lifter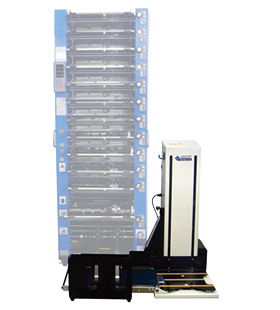 This machine will lift the stack of collated flyers to the waist level.
It improve the labor rate and to reduce the amount of label load.
The power is linked to the collator and will be automatically turned on or off.
Single button operation.
The conveyer can be folded during storing, in other words, space saving.
Genesis Wrapping machine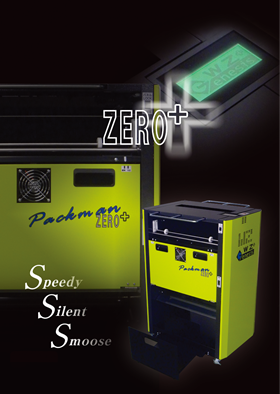 Simple wrapping with polyethylene film!
This automatic newspaper wrapping machine is able to perform at a high processing speed of 85 copies /min.
Since our product can wrap papers up to dimensions of 275mm(length) X 410mm(width) X 30mm(thickness), it can wrap not only newspapers but also magazines.
Simple wrapping by attaching the special film.

Selling Agency
"Genesis "Kawakamikiko Co., Ltd.
Representative Makoto Yoshiike
Senior Executive Vice President Hitoshi Siokawa
Address 304-2 Koyagi machi Takasaki city Gunma prefecture
TEL +81-27-361-6633
FAX +81-27-362-4102
URL http://www.kawakami-kk.co.jp
E-mail info@kawakami-kk.co.jp
Capital 10,000,000 JPY
Employees 37
Maker
"Genesis" Maruyama Kikai Co., Ltd.
Representative Seiichi Sato
Senior Executive Vice President Hitoshi Siokawa
Address 304-2 Koyagi machi Takasaki city Gunma prefecture
TEL +81-27-361-6631
FAX +81-27-362-4102
URL http://www.maruyamakikai.co.jp/
E-mail info@maruyamakikai.co.jp
Capital 20,000,000 JPY
Employees 32
K&M Company history
1950
Foundation of Maruyama Kikai Co., Ltd.
1957
Reorganized to a stock company.
1965
Began manufacturing locomotives.
1970
Establishment of Technical department.
1973
Began sales and manufacture of newspaper advertisement insert collating machines.
1976
Foundation of Kawakamikiko Co., Ltd. Full transfer of sales of the newspaper 
advertisement insert collating machines.
1990
Began manufacturing newspaper wrapping machines.
1993
Began business with Yokohama Rubber Co., Ltd.
1994
Began manufacturing of automatic advisement feeding machines. Found
Haruna factory.
1996
Expansion of Haruna factory. Full transfer of welding and locomotive parts
production section.
2000
Began manufacturing of vibrating paper handling machines.
2001
Began manufacturing of automatic newspaper vending machines. Obtained ISO
9001:2000
2011
Began manufacturing of industrial dryers.